Hyundai Elantra in Vancouver, BC
2020 Hyundai Elantra
When you are looking for a new car that can live up to your standards and get you excited about driving again, it's about time you came down to Langley Hyundai and took the amazing 2020 Hyundai Elantra for a test drive. This generation Hyundai has pulled out all the stops and encouraged their designers to make a car that will really stand out in a crowd. They succeeded far beyond those expectations.
Earning the title of 2020 JD Power Award for "Highest Ranked Compact Car in Initial Quality in the US" there's never been a better opportunity to revitalize your life with a vehicle that can keep up with you. Find yours today at Langley Hyundai!
The 2020 Hyundai Elantra in Vancouver
What about style? Not to worry. This Elantra has it with plenty to spare. Take note of an interior that captures the imagination, reinforced the comfort cues that Hyundai is recognized for, and acknowledges the versatility that modern drivers crave. Thanks to yearly refinements, welcomed facelifts, and technological packages this car continues to inspire the new generation of drivers and those who have been on the road for decades alike.
Get out and explore with the confidence that stems from the impressively optimized 1.8L Dual CVVT DOHC 16V engine that coupled with either the 6-speed manual or 6-speed automatic transmission. Or, if you're the sort that hears the clarion call of getting ahead of the curve with the speed that separates you from the crowd, choose models equipped with the 2.0L Nu GDI 4-cylinder engine. With 173 available horsepower and a sporty vibe, this is a car you'll be proud to call your own.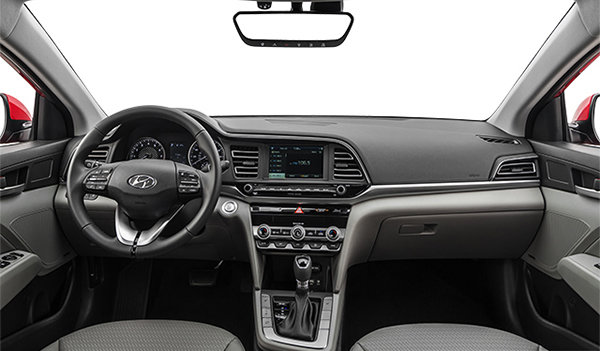 An Advanced Car for Modern Drivers
When it comes to customization options, you'll find a number that really do a great job of letting your personality shine through. Included on this list you'll want to take note of the sunroof, a perfect addition for those who want to feel the air flow through the cabin when the weather is nice. Add to this both front and rear heated seats. Really, this is the modern car that you deserve to be driving.
Let's get into that: Driving. When you drive the Elantra you'll find yourself getting farther without having to worry about refueling thanks to an impressive fuel economy rating that ranks among the top in its segment. Imagine what 6.4L/100km on the Highway on the standard model and as low as 6.7L/100 km Highway on the 2.0L Nu engine will let you do. Find the model that's right for you with the help of the team that really knows their Hyundai vehicles – Langley Hyundai!
Langley Hyundai – Your Dealership for the 2020 Hyundai Elantra
When you begin your search for the 2020 Hyundai Elantra in Vancouver there's no better location to start with than Langley Hyundai. Our line-up of vehicles receive the care and attention they need to ensure that when you pick one up and take it home that it's as close to its manufactured standards as possible.
Visit Langley Hyundai today, strategically located at 19459 Langley Bypass, in Langley, British Columbia just a short drive from Vancouver. We have created an easy-to-use form on our website to submit your questions, or are available by phone at .