Hyundai Veloster for sale at our Dealership in Surrey, BC

Hyundai Veloster review from our dealership
Pull out all the stops this summer with a brand new 2020 Hyundai Veloster. Whether you're looking for an eye-catching ride to get around town or you want something to commute back and forth to work in, the Veloster is a great choice. From its sporty styling to its three-door hatchback, there is plenty to love in this vehicle. With its fun and feisty appearance to its bold and daring pep, you'll be a force to reckon with on the open road. Check out some of the top features of the new Hyundai Veloster below.
Performance Features of the 2020 Hyundai Veloster
You'll appreciate the performance of this sporty little car. There are two different engines from which to choose and plenty of horsepower too. The engines are:
• 2.0L Inline 4-cylinder that brings 147 hp and 132 lb.-ft. of torque
• 1.6L Inline 4-cylinder Turbo engine that delivers a whopping 201 hp and 195 lb.-ft. of torque
Combine these engines with either a 6-speed automatic transmission or a 7-speed EcoShift Dual Clutch Transmission (DCT). You can also select from drive modes, which include Normal, Sport, Eco, or N). In addition, the Turbo R-Spec comes with a standard B & M Racing Sport Shifter that adds some fun and action to your ride. Or if you want to go for a bit more, there's an available sport-tuned suspension and steering option.
Interior and Exterior Design

The 2020 Hyundai Veloster is definitely an eyeful. The visual "strut" this ride has will be turning heads when you cruise down the highway. Slide into the comfortable seating, which provides 6-way adjustability and power lumbar support for some trims. Heated front seats are available to make those cold days warmer, and whether you opt for premium cloth, leather bolsters, or full leather seating, you will appreciate the value of the interior.
Discover the roominess in this little car --enough room to be comfortable but still small enough to feel like you're in a sports car. Also, available is the power tilt and slide wide sunroof.
Safety and Technology
Keep on top of the safety features when driving in your Hyundai Veloster. The features you can expect include:
• Lane keeping assist
• Forward collision-avoidance assist
• Driver attention warning
• Blind spot collision warning
• High beam assist
• Smart cruise control
• Rear cross traffic collision warning
New technology gives this vehicle the edge on its competitors. The Heads-up Display is a small, clear screen that is positioned right above the steering wheel at eye level. The screen displays relevant information, such as your speed, how much fuel you have left, and so on. It's very subtle, so it doesn't distract your driving. Yet, at the same time, you don't have to glance down at your instrument panel to see the information.
Other technology features include wireless device charging and access to Android Auto and Apple CarPlay. Most of the trim levels have 8-inch color touchscreen and an Infinity Premium Audio System with eight speakers.
Don't worry about driving and talking on your phone, because most trims have the Bluetooth hands-free phone system with a built-in voice recognition feature. Sirius is also available for your listening pleasure.
Trims and Pricing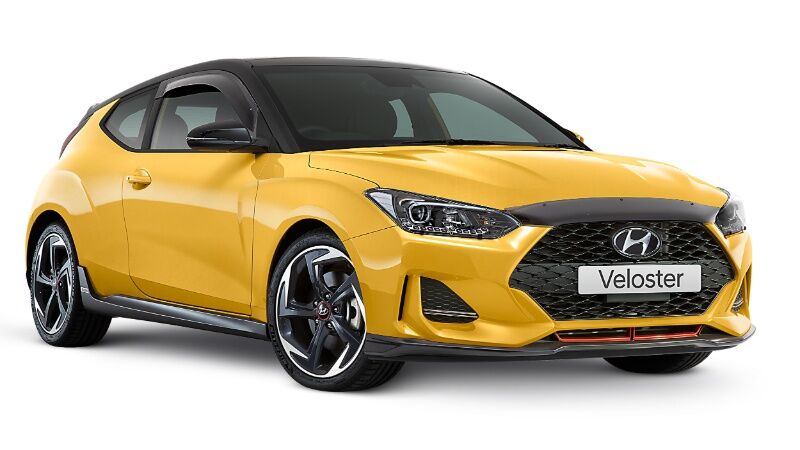 You can select from five different trim levels, which include:
• Hyundai Veloster 2.0 -- $25,438
• Hyundai Veloster 2.0 Premium -- $31,121
• Hyundai Veloster Turbo R-Spec -- $31,594
• Hyundai Veloster Turbo -- $34,706
• Hyundai Veloster Turbo Ultimate -- $38,360
Next Steps
Now that you can see how this car may fit perfectly into your lifestyle, stop by Langley Hyundai for a look at our extensive selection. You can browse around the car lot and take a Veloster for a test drive today.
Used Hyundai Veloster in Surrey, BC
1.6 GDI D-CVVT 4-cylinder engine
Fantastic fuel efficiency rating of 6.7-L/100km Hwy
Available 6-speed EcoShift transmission with Paddle Shifters
4-wheel disc brakes for improved safety
An edgy addition to the Hyundai brand, the Veloster entered the scene in 2011 to critical acclaim and praise from drivers across North America. In the years since, the Veloster has proven that Hyundai engineering and designs have never been better. The 2014 model compact car has a variety of trim levels that differentiate enough to allow drivers to personalize their car to their needs.
Enjoy the peppy 1.6 GDI D-CVVT 4-cylinder engine that comes standard with a truly impressive fuel efficiency rating that places it in a league of its own. With standard features that include Bluetooth and 7" High Resolution LCD Video Touch-Screen, this is a car that won't discourage you from going on longer drives. Come down to Langley Hyundai and experience it today!
All the Features You Wanted in the new Hyundai Veloster
Under the hood you'll note the 1.6 GDI D-CVVT 4-cylinder engine that is normally matched with a 6-speed manual transmission earning you a fantastic fuel efficiency rating of 6.7-L/100km on the highway and 9.0-L/100km in the city. This is a car that is aimed to impress, with ESC with TCS and vehicle stability management for optimal control as well as 4-wheel disc brakes for safety and simple maintenance.
Choose one of the higher trim levels for optional 6-speed EcoShift Dual Clutch Transmission with Paddle Shifters. This addition allows you to spend less time with the clutch but gives you the optional for manual control when you get the urge to take control.
Trim Levels that Impress
The Veloster is a Hyundai that's definitely not lacking model options. Choose between six specifically optioned trims with their own personalities and equipment. As you move up towards the Veloster Tech DCT model, you'll find additions that include rearview camera, heated front seats, heated steering wheel, navigation system and much more.
For an exterior that really stands out, consider the DCT model, with black glossy intake and chrome grille surround that match the overall flowing design approach. Both Tech-affiliated trim levels enjoy the additional feeling of space you earn from a panoramic sunroof. Come down to Langley Hyundai and test drive a Veloster today!
Langley Hyundai – Your Dealership for a Used Hyundai Veloster
When you begin your search for a used Hyundai Veloster there's no better location to start with than Langley Hyundai. Our lineup of vehicles receive the care and attention they need to ensure that when you pick one up and take it home that it's as close to its manufactured standards as possible.
Visit Langley Hyundai today, strategically located at 19459 Langley Bypass, in Langley, British Columbia just a short drive from Vancouver. We have created an easy-to-use form on our website to submit your questions, or are available by phone at .
Hyundai for sale in our Dealership